On the Cover of Veranda Magazine - July/August 2021- The New American Style: An Epic Encore
We're so excited to announce our New York City project on the cover of the July-August issue of Veranda Magazine! This pied-a-terre was designed for a theater loving family on the Upper West Side of Manhattan and features classic moldings, high ceilings and bold decorating by Anthony Baratta. Dig in to this beautiful story of romantic furniture, an unabashedly fearless use of color and pattern and a few other surprises.
Kips Bay Dallas Showhouse
Take an exclusive look into the 2022 Kips Bay Showhouse in Dallas. Our room, the Library is inspired by English decorating boasting large scale upholstered furniture and beautiful wood antiques. Click the link below for the full story!
Exclusive Look Inside!
Junior League of Hartford Showhouse
This years Junior League of Hartford Designer Showhouse was a knock-out performance! Inspired by the infamous Sister Parish, this room is colorful, pattern filled and light hearted.
GET THE INSIDE SCOOP
Congratulations to Anthony Baratta!
A most well-deserved congratulations for being named the recepient of the IDA Award (International Design Awards) by Connecticut Cottages and Gardens.
TRIBUTE VIDEO
Vibrant Country Style in Connecticut
This 1895 Victorian home is filled with color, pattern, folk art and American textiles. It is featured in the September 2022 issue of Country Living Magazine.
Introducing Anthony Baratta's New Book: Decorate Happy - Bold, Colorful Interiors by Rizzoli
The first solo book by celebrated interior designer Anthony Baratta, Decorate Happy showcases Baratta's preppy-chic style in a pattern-filled guide to decorating with verve and style. Anthony Baratta's rooms are happy. Whether they are found in the country or the city, these maximalist rooms are designed to make you smile. In his first solo book, Anthony Baratta, whose work has graced more than fifty magazine covers and been celebrated in the Cooper-Hewitt, shares twelve of his most recent houses, all in their own way perfect examples of his classic high-color, high-pattern all-American style. Some nod to the historical importance of centuries past, like an eighteenth-century house in Colonial Williamsburg, some are nautical chic. Some are glorious pop art, with mod rooms and bright primary colors, while others are chicly rustic. Although all the houses are unique, their rooms share one consistent underpinning: joy. Colorful, pattern-filled, life-affirming--these are rooms where life is meant to be lived to the fullest.
BUY FROM RIZZOLI BOOKSTORE

Anthony Baratta Colonial Williamsburg Home Tour
Explore and be inspired by this special house tour from Veranda. Anthony Renovates an 18th Century Home at Colonial Williamsburg as their very first Designer in Residence.
READ MORE
Anthony's Miami Pop Art Apartment
Announcing a unique opportunity to own furniture and decor from one of Anthony's most beloved spaces. Shop this look!
Shop Now
Pied-a-Terre with a Punch!
Dive into the colorful world of Tony's NYC apartment. Primary hues packed with a ton of personality in a limited space. 
READ MORE
True Colors
Anthony Baratta transforms a Florida ranch house into a modern paradise of pattern and color in the September 2018 issue of Luxe Magazine, Ft. Lauderdale | Miami and Palm Beach editions. 
Read More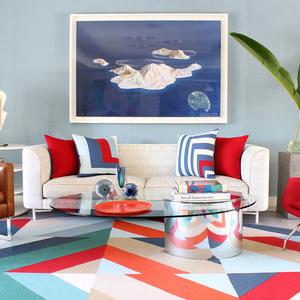 Making Waves
Check out our latest project featured in Connecticut Cottages in Gardens, February 2018. A Nantucket compound facing the Atlantic and filled with signature Anthony Baratta style. 
Read More
FOLLOW ANTHONY BARATTA ON INSTAGRAM @TONYBARATTA